small business marketing
You're not sure where to start, and have no time to figure it out.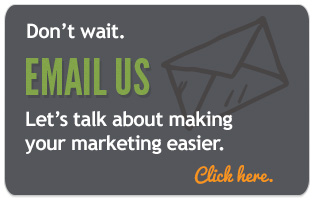 We understand how overwhelming it can be for a small business owner to find time for effective marketing. With Grasshopper, your business can get more results from your budget. We are ideally set up for small businesses (less than 10 employees) who need experienced marketers but don't want to hire a full-time team. Plus, you only pay only for what they need. Let us keep your marketing on track, so you can spend more time with your customers.
A better way to meet your marketing goals
Small businesses need sound marketing to grow revenue, but they don't have enough time or expertise to do it themselves, and they lack the budget to maintain in-house teams or pay big agency prices. We founded Grasshopper Marketing in 2005 to meet that need, and since then we've given our clients first-rate marketing that works: on-time, on-budget and on-track.
Grasshopper is a unique marketing agency made up of talented professionals who use modern communications to eliminate the need for a brick-and-mortar office. Some might say we're a virtual agency. Fact is, we're quite real, and quite good. We're just not all in one place. Check out our team.
The easy way to better marketing
Small companies need first-rank marketing that's also affordable, but this can't be delivered by traditional agencies, which are chiefly in business to get big. Grasshopper wants to make your life easier. We offer small business owners these services:
full branding help: name, logo, biz cards
lead generation planning and execution
marketing and sales material design
marketing tactics management
public relations planning and execution
social media design and coordination
email marketing and execution
---
Our full line of services
What does this mean to your business?
Scalability

Adjust marketing budget in concert with business growth.

Greater Efficiency

Get more results from your budget using a seasoned, full-service marketing team at significantly lower cost than an employee.

Faster Execution

Start and finish new projects quickly, with no dependency on fixed employees.

Expert Marketing Knowledge

Access experience related to specific small business marketing issues.

Learn to Do

Let us train your team to manage tactics such as SEO, blogging, press release submission and more.


 More Time

Give greater focus to what you do best — manage your business.
Our related work and case studies
Read how our small business clients increased sales, got more marketing projects completed and felt relieved their marketing goals were finally being met. We've created countless logos and built lots of lead gen campaigns for businesses, large and small. If you're looking specifically for small business experience, below are a few case studies of what we've done.
Alan Lowe and Jim Eckstein founded The Angel Advisors to help business owners and executives grow the value of their companies and achieve their entrepreneurial purpose. Grasshopper created their logo, brand, tagline, business and sales materials as well as their internet presence (website and social media accounts).
Click here to read the full case study: The Angel Advisors
Let's get started
As you can see, we're excited to work with small business owners. Let's discuss how we can take your marketing to the next level.
You can find us at: 904.310.4230 (in Jacksonville) and 404.307.0023 (in Atlanta) or please complete the form below and we'll contact you.