big & small marketing ideas

Shannon Kenner
April 1st, 2013
0 Comments
Traditional Corporate Marketing
With the traditional corporate model for marketing departments, the internal team manages several different "specialized" agencies. You might have an Advertising Agency, a Digital Agency, A Public Relations agency and a Social Media Agency. And with all those teams working on your behalf, you'll also get:
Multiple vendors, relationships and invoices
Multiple ramp-up and training sessions
No synergies
A new RFP process for any new vendor specialization (Big Data, Video, SEO and so on)
Coordination of services left up to the client
Outsourced Corporate Marketing
Or you may decide to let your internal marketing team handle some of the strategic or day-to-day things, while you lean on one outsourced marketing agency for the heavy lifting or overflow projects. Outsourcing your marketing allows you:
One vendor, relationship and invoice
Single ramp-up session
Synergistic institutional knowledge
New specializations already developed by marketing partner
Service coordination by marketing outsourcing firm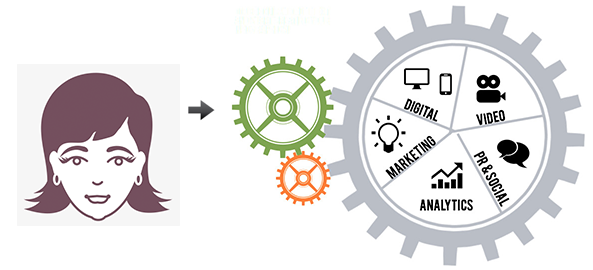 If you want to build a house, you can hire a carpenter, electrician, plumber, and brick layer, and then try to communicate with and manage all their work. Or you can hire a builder, who speaks all their languages and knows how to manage their actions. In the same way, an outsourced marketing partner can help your company build its marketing strategies, with less guess work, less risk, less hassle, and ultimately more satisfaction.