14 Nov

What is a landing page?
What is a landing page:
What makes a great page?
You've heard the term around the office and you know basically what it means, but you really want to know what is a landing page (exactly) and more importantly, what makes a landing page work?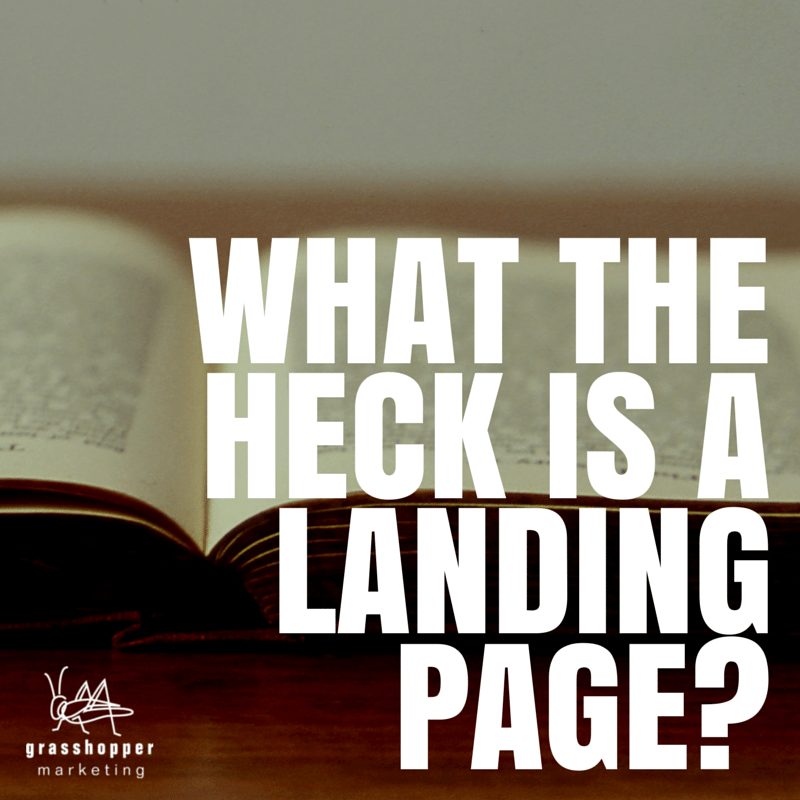 Ok, so a landing page is a single web page reached by clicking on a search result or an online ad. The landing page will usually display copy related directly to the advertisement, search result or link, along with an image and a form to gather contact information. Lots of website pages have forms, as well as copy and images related to specific topics.
But landing pages are DIRECTLY related to an inbound link, and that makes them very special, because they allow the website to contain very specified content for a very specified purpose, without need for the page to fit within the overall site architecture.
Landing pages should be a vital piece in campaign strategies, as every advertising, marketing or lead generation campaign you plan (an event, eBook release, product update, awareness campaign, and so on) should include one. And it should highlight exactly what prospects need to know about the campaign, providing calls-to-action and social share buttons to push the right prospects along the campaign funnel.
Each landing page should be devoted to one marketing campaign. According to Marketing Sherpa, 48% of landing pages contain multiple offers, and while there isn't a rule against having a single OFFER attached to a single landing page, you should only have one CAMPAIGN attached to a single landing page.
For example, if you're launching an event, you may want to send an offer to last year's attendees with a limited time special price. The offer on the landing page should only focus on that early bird pricing, and nothing else. However, if you're launching a larger themed campaign, you could include multiple offers.
At Grasshopper, we recently created a "Soar" awareness campaign for one of our clients, and while that was the central theme, we included various related offers throughout that campaign's separate landing pages.
What is a landing page:
How many are needed?
In short, one for every offer, link, search result or ad that you have in cyberspace. Companies that increase their landing pages from 10 to 15 see a 55% increase in leads (according to recent HubSpot analysis). While that leap may seem small, considering the purpose of landing pages makes this result fairly easy to understand.
Based on Marketing Sherpa's study, 44% of clicks for B2B companies are directed to the business' homepage (that's bad). While this stat and the one above are not directly correlated, you can see the inherent issue – homepage content is relatively static, while landing pages can be customized to fit a boundless set of ongoing offers and lead gen topics. In short, the more content, offers, and landing pages you create, each aimed at a specific subject, the more opportunities to generate more leads for your business. Such leads tend to be more qualified, since they are based in interest on relatively specific topics, rather than the business in general.
Accordingly, those who click on a marketing message you send should be directed to a landing page customized for that message alone. In other words, your landing page should be customized for the needs of every campaign you launch.
Sending users to your homepage will significantly increase bounce rates, because they'll have much less idea where to go once they arrive. Landing pages solve the problem. If you're announcing an upcoming event, your landing page should highlight details of the event. If you're launching a new eBook, your landing page should summarize the content readers will find.
If you're sharing a new deal, your landing page should only detail the value of the deal. Specified messages to specifically qualified leads work better than any static website page or message, no matter how well crafted.
What is a landing page:
Page Elements
Ok, so you've got a pretty good idea of what a landing page is, so let's talk about its elements. Generally, landing pages contain:
no top navigation
headline and usually sub-headline
brief description of the offer (less is more)
keywords
at least one supporting image or video
a form to capture information (more details below)
call to action button
social share buttons
proof elements: testimonials or security badges (optional)
In Closing
Well there you go. I hope we've answered your question "what is a landing page?"
If you have more questions, or if you need help developing a lead gen or marketing campaign strategy, or concepting and executing a landing page, reach out to us. We're here to help make you look good and to get your group, your department, your company more leads and more sales.
Want to dig into this subject a little more?
Get our free Landing Page Best Practices eBook.